Corvette Annapolis

---
Corvette Annapolis, Inc.
(CA) was established in the fall of 1991 to give Corvette lovers a chance to meet others who share a pride of Corvette ownership.  Along with the fun we have driving our Corvettes we have the added benefit of creating many new friendships that go beyond club activities. We like to say there are no strangers at Corvette Annapolis, only friends who have not yet met. We are certain that you will not find a friendlier group of people.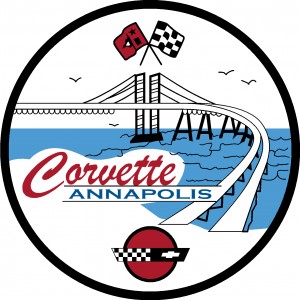 Events:
We all enjoy caravanning for dinner or brunch, as well as occasional long trips to places such as Bowling Green, KY to tour the Corvette Plant and Museum.
Each year we have several social events such as a Bowling Party, Anniversary Party, Summer Picnic, Ocean City Weekend, which includes driving our Vettes down the boardwalk, and our year-end Holiday Party dinner-dance. We also do day trips such as: touring covered bridges or Maryland lighthouses.  These are just some of the annual events we do throughout the year, but you don't have to do them all, you can pick and choose.
Throughout the year Corvette Annapolis hosts two- three car shows (Fun Shows) and usually a rallye.  Some of us also enjoy low speed racing events such as Auto Cross, and high speed track driving.
Fun Show:
Enter your Corvette in a specified category of stock, modified or custom. Trophies are awarded by the highest number of participants' votes in each category.
Gimmick or Poker Rallye:
A list of directions and clues along a specified route to find the answers, ending at a restaurant of course!  Or, start off with drawing a card and following a specified route to various card stops to pick more cards.  Best hand wins. Of course, ending at a restaurant!
Auto Cross:
Low speed event.  A race against the clock on an established course (usually a parking lot). Only one car on the course at a time. Thank goodness!
High Performance Driving Events:
Also known as High Speed Driving Schools.  These are professionally run events by clubs looking to provide safe exposure to high speed driving on professional road race and oval courses.  Ride-along instructors are mandatory for novices.  Multiple cars on the track, but no racing allowed.
Charities:
Each year Corvette Annapolis supports various charities with money raised from our car shows, rallyes, and other events. In the past through the Anne Arundel Medical Center we have supported the Children's Asthma Camp, the Neonatal Unit, the Cancer Infusion Center and the Cardiovascular Rehab Department. In addition we have sponsored Toys for Tots and The Boys and Girls Club of Anne Arundel County.  Currently our main charity support goes to The Arc of the Central Chesapeake Region.  The Arc's mission is to advocate for the rights and respect of all people with intellectual and developmental disabilities by providing resources and inspiring community awareness and action.  Corvette Annapolis sponsors an unrestricted endowment fund at the Arc CCR to support families and individuals in need.
Membership:
Corvette Annapolis requires you to own a Corvette and attend two events and/or meetings in order to join our club.  You must be at least 18 years old. Our club dues include membership in the National Council of Corvette Clubs (NCCC).
Meetings:
We hold monthly meetings in Annapolis, usually on the second Tuesday of each month.
Sponsor:
Corvette Annapolis is proudly sponsored by Ourisman Chevrolet of Bowie.
Contact us / Additional information:
Please visit our web site at www.corvetteannapolis.com .
---
---